Association
Scientific Board
Statutes
Mountain Gorillas in Rwanda
Ambassadors of the Mountain Gorillas
Education Center
Sponsorships

powered by rw it-design
Mountain Gorillas in Rwanda
Currently there are approximately 740 mountain gorillas inhabiting our planet. Their habitat is limited to a region in Uganda (Biwindi) as well as a triangular territory between Rwanda, Uganda, and Congo (Park de Volcanos). We are aware that animal species are regularly becoming extinct, bur this does not mean that we should accept this – not with our closest relatives!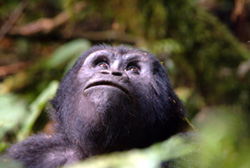 There are naturally many approaches to save a highly developed species such as the mountain gorillas. In Rwanda it appears to be of the utmost importance to avoid a rivalry between mountain gorillas and humans. Rwanda is very small country and has one of the highest populations.


One of the most fertile parts of the country has been allotted exclusively to the mountain gorillas. This means that the Rwandans are not permitted to enter the National Park. A limited daily number of guests are allowed to enter the National Park.
Since the National Park offers drinking water, firewood, and food in the form of meat from wildlife, many inhabitants find it difficult to understand these rules. Especially since 99% of the people have never seen a mountain gorilla and probably never will.

The Endangered Association aims to save the mountain gorillas from extinction on the one hand by avoiding conflicts with the population through construction of water tanks at the park borders and by supporting the resettled Batwa families (pygmies), who are basically hunters. On the other hand, the goal is to inform and educate the people that living and protected mountain gorillas are advantageous for the Rwandans.
| | |
| --- | --- |
| | By establishing the 1st Rwandan education program, where men, women, and children receive free lectures on environment protection, hygiene, and medical problems such as HIV/AIDS (Andy Lee Lang Education Program), we took the first step starting in November 2008. |