Association
Scientific Board
Statutes
Mountain Gorillas in Rwanda
Ambassadors of the Mountain Gorillas
Education Center
Sponsorships

powered by rw it-design
Andy Lee Lang Committee
After over 20 years in show business, I felt I had to find a project I could be dedicated to, could identify with, and where I could move something. Being an animal lover, I was looking for a suitable animal project and by accident I came upon the Endangered Association. For a while I had been planning a trip to the mountain gorillas. This "virus" had been planted after enjoying the movie "Gorillas in the Mist" more than once. Within 2 months (January and February 2007) I undertook 3 Gorilla-Trekkings, one in Uganda and 2 in Rwanda. These encounters with the silent giants were absolutely breathtaking. Therefore, I wanted to do something for these animals – but how?? Claudia and Manfred Hochleithner from Endangered offer me this opportunity, assisting and advising me with all their experience from various projects in Rwanda. Today I am proud to present to you the Andy Lee Lang Committee.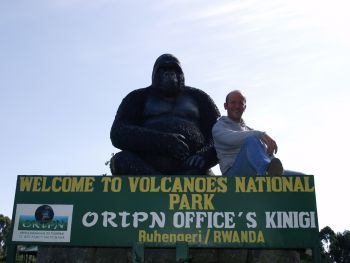 Duties and Goals
Der Conservation of the mountain gorillas is a tricky and more than difficult issue. The threat to the natural habitat of the mountain gorillas appears to be more imminent than poaching. Rwanda is a small country and the fields reach the National Park borders. So how can we help? The only chance is to involve and help the population and to support the National Park.
I have created a project that will support the National Park staff and thereby the people living with the gorillas on a daily basis. We found out that Rwanda does not have a park ranger with conservation training. Therefore we aim to send a National park employee to the Durrell Wildlife Conservation School in Jersey. This staff member should then train other National Park employees and guides.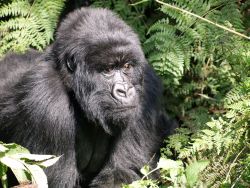 In the coming months it will be my goal to recruit the necessary funds for this project, in the hope that in a few years, well trained park rangers and guides will care for the preservation of the National Park and the survival of the mountain gorillas.

FShould you choose to support our project, you are welcome to: Oberbank, Bank number 15150, Acct. No 4211-0181.81. In advance, I thank you very much for your support.

And who knows, maybe you will be joining us on a trip to the "Gorillas in the Mist".

Yours truly, Andy Lee Lang


Short facts about Andy Lee Lang:
Andy Lee Lang, entertainer and rock'n roll musician, has been a professional musician for over 20 years. He is the official "Ambassador of Rock'n Roll", has produced 15 CD's, and has performed on stage with legends such as George Harrison, Wanda Jackson, and Chuck Berry. He has received more than 35 national and international awards for his creative accomplishments; he was named a "Living Legend" in Cambridge in 2003; also in 2003 he was inducted into the "American Hall of Fame" the first and only Austrian to have been honoured in this way and in 2004 he was awarded the Golden Order of Merit of Vienna.

Additional information under Homepage Andy Lee Lang"